Garlic packing machine with multihead weigher JT-420W
Garlic packing machine with multihead weigher JT-420W is a packing machine line,it can pack the shrimp ,at the same time ,it can pack other granular products.it is equiped with multihead weigher,which is stable and makes the whole packing process more fast and efficient. Garlic packing machine with multihead weigher JT-420W including :JT-420 Automatic vertical packing machine,JT-10 Multihead weigher,JT-130 Finished products conveyer,JT-350 Z-shaped automatic material elevator,JT-2-2 Platform
Garlic packing machine with multihead weigher JT-420W application:
Suitable for many kinds of measuring equipments,and package different kinds of products ; such as puffy food, shrimp roll, peanut, popcorn, cornmeal, seed and sugar etc. which shape is roll, slice and granule.
Specification of Garlic packing machine with multihead weigher JT-420W

JT-420 Automatic vertical packing machine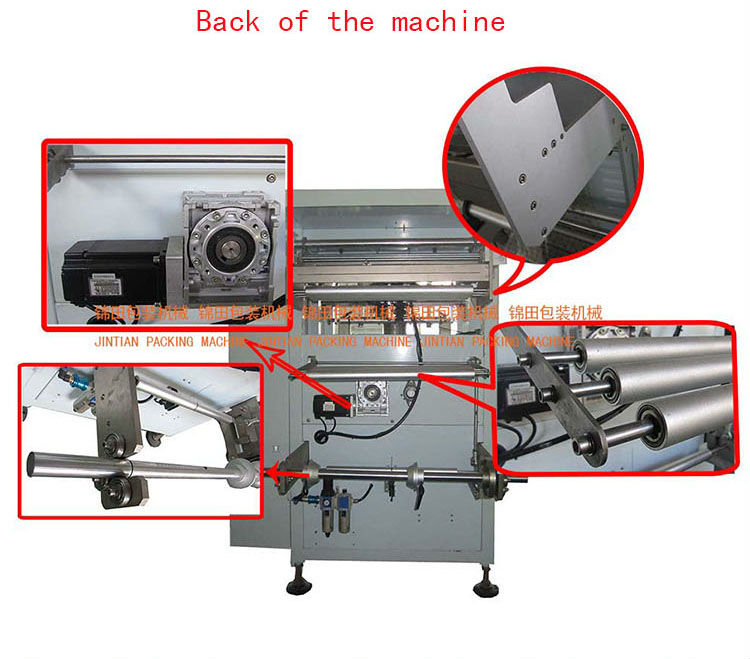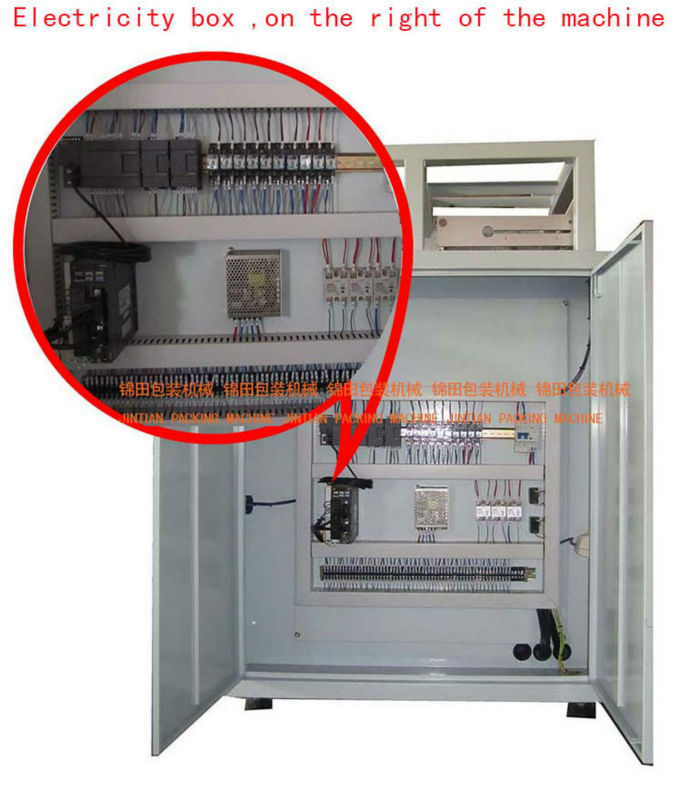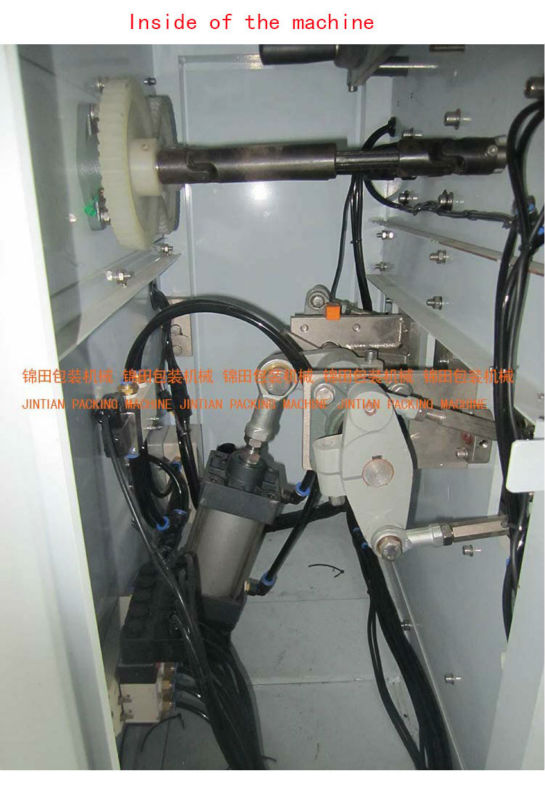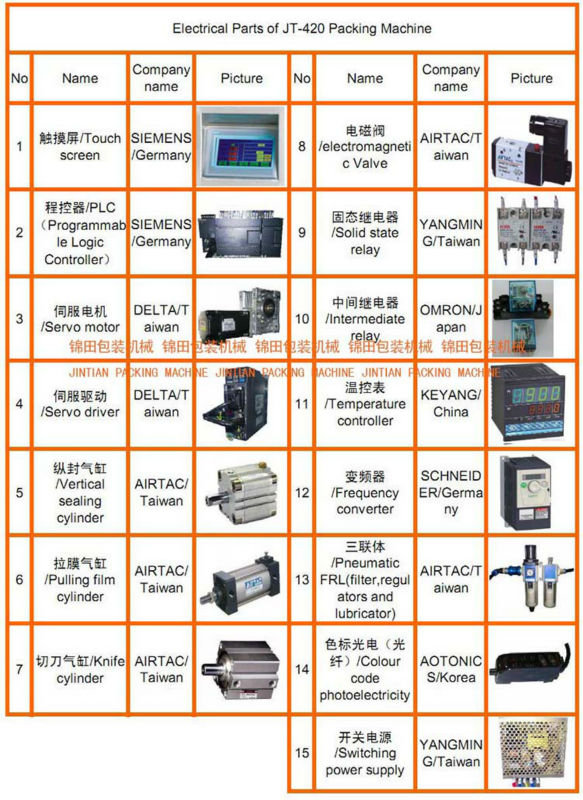 Technical characteristics:
1. It is controlled by a micro computer,with touching the screen,and the operation is simple .
2. PLC computer system , function is more stable , adjust it with any parameters ,and don't need to stop machine.
3. It can stock ten dispose , simple to change variety.
4. Sever motor drawing film , position accurately.
5. Temperature independent control system ,precision degree get to±1°C.
6. Horizontal , vertical temperature control ,suitable for various of mix film , PE film packing material.
7. Packing type diversification , pillow sealing, standing type ,punching etc.
8. Bag–making , sealing, packing, print date in one operation.
9. Work circumstance quiet, low noise.
Technical parameters
| | |
| --- | --- |
| Type | JT-420 |
| Bag length | 50-300mm(L) |
| Bag width | 50-200mm(W) |
| Max width of roll film | 420mm |
| Packing speed | 5-60bags/min |
| Measuring range | 150-1200ml |
| Air consumption | 0.65mpa |
| Gas consumption | 0.3m³/min |
| Power voltage | 220VAC/50Hz |
| Power | 2.2KW |
| Dimension | (L)1080mm*(W)1300mm*(H)1400mm |
| Deadwight of machine | 600kg |
JT-10 Multihead weigher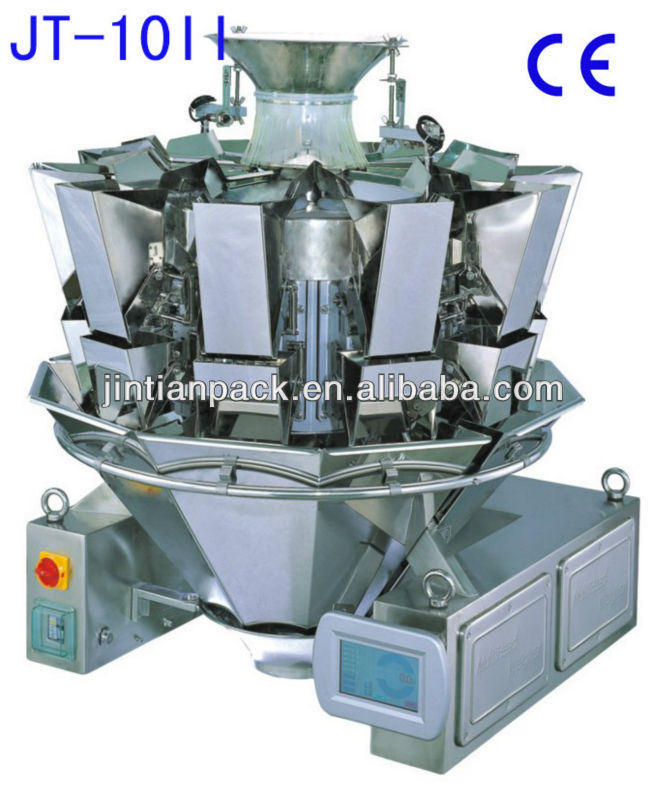 Technical characteristics:
1.Select the best combination immediately from diversified weight combination through computer with perfect combination of high precision and high speed.
2.High precision data-type weighing sensor realizes precise weighing.
3.Liquid crystal screen operating system in multiple languages such as Chinese and English, etc.
4.IP65 grade water-proof and dust-proof design. It's clear and sanitary with all stainless steel parts. Full sealed design prevents accumulation of material and facilitates cleaning.
5.It can fine the opening and closing speed of hopper door according to the feather of items to be weighted, and prevent crushing and blocking of material.
6.With powerful digital automatic counting function. It can record the index for each batch such as total bag number, pass rate and difference of single bag, etc.
7.Optional devices: trigliyph balance ball, suction hopper, printing device, tolerance sorting device.
Technical parameters:
| | |
| --- | --- |
| Type | JT-10 |
| Measure number | 10 |
| Range of single weighing | 10-1000g |
| Quantity precision | 0.1-1.5g |
| Average tolerance of single bag | 0.2-0.7g |
| Weighing speed | 50-100bags/min |
| Hopper capacity | 1300ml |
| Hopper type | Double hoppers without memory |
| Preliminary programs | 99kinds |
| Net/gross | 300/370Kg |
| Overall size | (L)1680×(W)1210×(H)1140mm |
JT-130 Finished products conveyer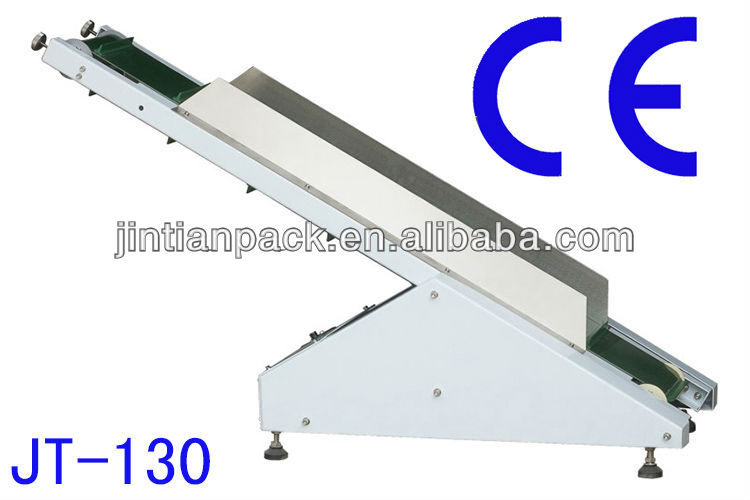 JT-350 Z-shaped automatic material elevator
Technical parameters:
| | | |
| --- | --- | --- |
| Model | JT-130 | JT-350 |
| Convey speed | 800mm | 3750mm |
| Power | 40W | 750W |
| Convey Measure | 200mm/min | 4T/H(Rice) |
| Overall size | 1300(L)×430(W)×890(H)mm | 3000(L)×650(W)×3750(H)mm |
JT-2-2 Platform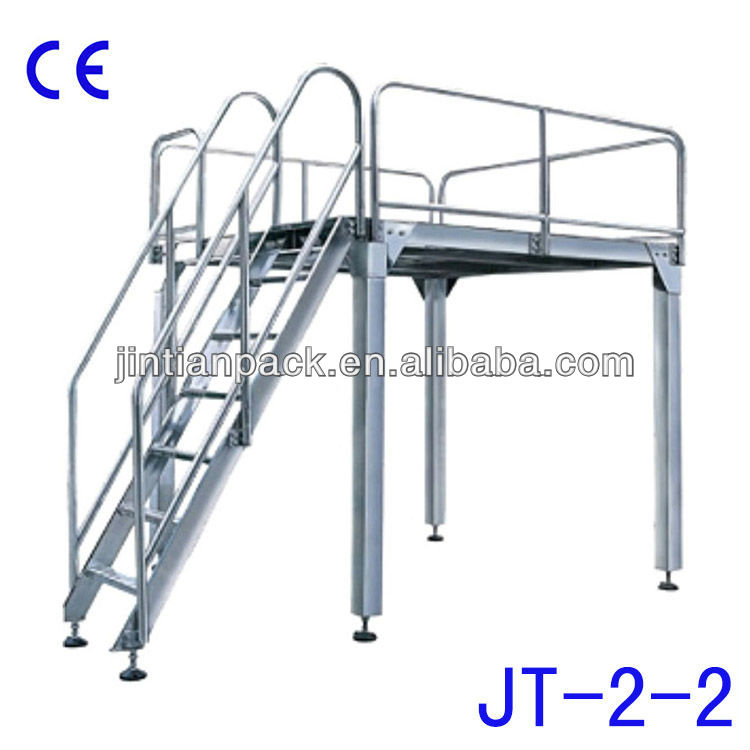 Technical parameters:
| | |
| --- | --- |
| Model | JT-2-2 Platform |
| Maximum Loading Weight | 2T-3T |
| Equipment Size | 2000mm*2000mm*2000mm |
| Net Weight | 350kg |
Packaging size of the machines:
| | | | |
| --- | --- | --- | --- |
| Name | G/N | Packaging size | Total |
| JT-420 packing machine | 660kg 600kg | (L) 1600mm * (W) 1250mm * (H) 1600mm | 3.2CBM |
| JT-10 multihead weigher | 300kg 220kg | (L)1240mm×(W)1180mm×(H)1460mm | 2.2CBM |
| JT-130 conveyor | 100kg 80kg | (L)1730mm×(W)580mm×(H)760mm | 0.76CBM |
| JT-350 elevator | 300kg 250kg | (L)2060mm×(W)1060mm×(H)1050mm | 2.3CBM |
| JT-2-2 platform | 330kg 280kg | (L)2060mm×(W)1910mm×(H)500mm | 2.0CBM |
welcome to our company